Pokemon GO players on iOS: the new release today (7/12/16, in the App Store now) reduces the information it wants from your Google account from "full access" to your email and "know who you are on Google". If you were already signed up, do this:
Go to accounts.google.com; log in if you're not already logged in
Click on "Pokemon GO release"
Revoke privileges

Go to your iOS device

Download the updated app, wait for it to reinstall

Kill the app; if you don't know how to do this, just power your phone off and back on again

Launch Pokemon GO; it'll fail to get access to your account. THIS IS OK.

Tap "try another account"

Log back in with your Google username and password.

This time it should ask for only "know your email" and "know who you are".
At the time I write this, it looks like many people are doing this, as the Pokemon GO servers are rendering the server overload screen: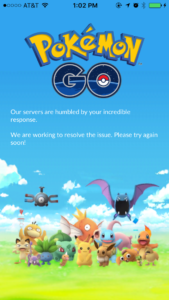 For the paranoid: It sounds like the iOS programmers just screwed up and released without reducing the account permissions request; this is not a nefarious scheme to steal all your email and Google+ naked selfies. From Niantic (via Kotaku):
We recently discovered that the Pokémon GO account creation process on iOS erroneously requests full access permission for the user's Google account. However, Pokémon GO only accesses basic Google profile information (specifically, your User ID and email address) and no other Google account information is or has been accessed or collected. [Emphasis mine – JM] Once we became aware of this error, we began working on a client-side fix to request permission for only basic Google profile information, in line with the data that we actually access. Google has verified that no other information has been received or accessed by Pokémon GO or Niantic. Google will soon reduce Pokémon GO's permission to only the basic profile data that Pokémon GO needs, and users do not need to take any actions themselves.